We want to share this graphic to show how the ecosystem of FairCoop currently works, and the stages of development of its different projects.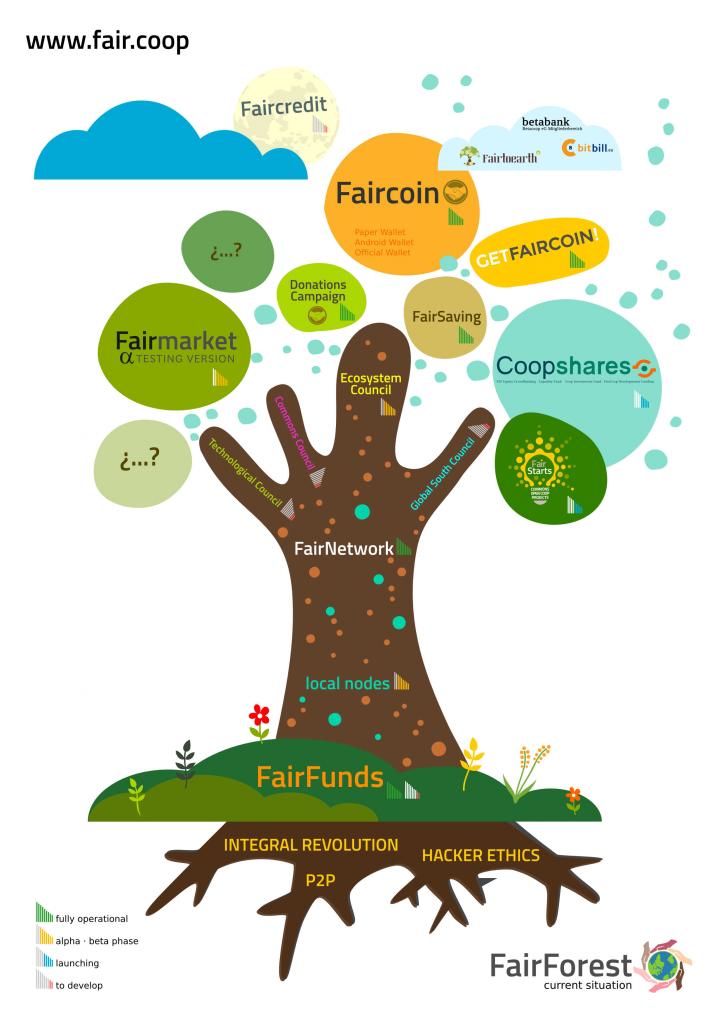 As far as the basic 'operating system' is concerned, we see that the FairNetwork – the social network through which the FairCoop community communicates and organises – is fully operational, new members are joining the forum, and overall activity is increasing. In parallel to this, local nodes are being created and activated. The Ecosystem Council is also conducting periodic meetings to address key issues and make collective decisions. 
As for the technological council, the global south council and the commons council, although they have some counselors they are still not really up and running and need us to add some momentum. This means the FairFunds (our funds for grants destined for change-making projects) are not yet active. They exist- and have a total value currently approaching as much as €400,000 – but we still need to build a fully participatory system enabling us to put those mechanisms into operation which will allow us to start on this redistribution in earnest.
As we can see in this 'FairForest', some projects are fully operational such as FairCoin, FairSaving – a Faircoin savings system, which allows the GetFaircoin platform to buy FairCoins – and the current donations campaign that aims to promote Faircoin as a way to receive donations, offering 1000 Faircoins to the first 100 non-profit organizations aligned with the principles of FairCoop who join in the campaign.
We are also developing various alliances and integrations that are taking place around Faircoin, such as the very important collaboration with BetaBank, also Bitbill, which allows bills to be paid using Faircoins- or the great work done on FairToEarth – an app that lets you convert your Faircons into cash. Without doubt, all these tools mean that day by day, Faircoin acquires more utility in the real world, value, and relevance within the cryptocurrency market.
A goal that is still on the horizon is FairCredit (the most eagerly-awaited monetary tool of the FairCoop ecosystem) which will begin development as soon as we have the necessary resources.
While some projects are still in 'alpha' phase, like the recently launched FairMarket, FairCoop's own virtual market, others could be said to be in the "launch phase" – the clearest examples of this would be FairStarts (a network of incubators and accelerators for projects focused on open cooperativism and commons / P2P production), and Coopshares, which as well as making a platform available for investment in projects within the Fairstarts network and outside it, will provide liquidity and stability to Faircoin and the FairCoop ecosystem as a whole.
FairCoop is well underway and gaining strength. It is also gaining in numbers of participating users and in projects, and looks forward to implementing more new developments in the course of the coming months. More initiatives, ideas, alternatives and above all, cooperation in the project are very welcome and can all take their place within the transition to this new post-capitalist social economy we are building.
This post is also available in: Spanish French Catalan Chinese (Simplified) German Greek Italian Portuguese