Call for nodes wanting to join Faircoin 2.0 launch

The time for the Faircoin 2.0 launch is coming.
The code is ready in github: https://github.com/faircoin/faircoin2
The white paper was updated and followed months ago: https://chain.fair-coin.org/download/FairCoin2-white-paper-V1.1.pdf
We plan to launch the new blockchain which is based in Proof of Cooperation(POC), around the end of september or beginning of october. One of the main characteristics of POC is that running the blockchain will become a task of those nodes which have been proved to be trustworthy and which will join the network to cooperate in the faircoin blockchain security. This process of proof is what we call Certification. And then in this way the nodes become Certified Validation nodes (CVN)
That's why we need to make this "Call for nodes", before the launch.
The process for register as a candidate por a CVN faircoin2 node, is ready. You can fill the form here https://ocp.freedomcoop.eu/joinaproject/faircoin2-cvn-operators/.  Our decentralized welcome team composed of people from the FairCoop CVN working group and from the local faircoop nodes, will participate in vetting the requests.
Please do that register before september 25 in order to be included between the CVN that are going to be part of the launch of faircoin 2.  At least 15 CVNs are needed to begin to give the blockchain enough reliability and resilience.
Anyway after this timeline, the process for being a CVN will remain open all the time in order to achieve a broad and resilent network of nodes.
A detailed guide for running a CVN can be found here:
https://github.com/faircoin/faircoin2/blob/faircoin2/doc/CVN-operators-guide.md
Faircoin 2 and the Blockchain for the Common Good.
Faircoin 2 White Paper Update.
As all of you know FairCoop's primary goal is to create an alternative to unfair economic systems. To achieve this goal many of our developments are centred on Faircoin, the cryptocurrency that we plan to use to redistribute wealth among all human beings.
As this blockchain technology is being developed, FairCoop realizes that in order to have a real coin with fairness it was necessary push forward our main developments. This is why FairCoop members have been working hard during the past few months to develop Faircoin 2.
With this new architecture, Faircoin overcomes the more unfair characteristics that other cryptocurrency consensus algorithms have, based on the mining or minting processes that rely on PoW or PoS, both based on competition. Faircoin 2 transcends this with Proof of Cooperation(PoC) and create a way of secure transactions in a way that is truly fair and at the same time making the entire process more sustainable. To do this, block generation is made by the Certified Validation Nodes (CVN) whose main feature is that they collaborate with each other instead of competing.
We have also achieved other central Faircoin goals: no more money creation, because there is no way to automate this fairly on the blockchain, making FairCoin stronger as a store of value for the solidarity economy and cooperative initiatives worldwide, and making the Faircoin blockchain into the perfect platform to be used by social currencies worldwide. This would make the FairCoin blockchain the closest thing to a blockchain for the common good.
We are in an a living process of discussion and network development in order to launch Faircoin 2, very soon. We invite to all of you to read the White paper and join the discussion: https://chain.fair-coin.org/download/FairCoin2-white-paper-V1.1.pdf
Comments: /groups/faircoop-community/faircoin/faircoin2/
Code development: https://github.com/FairCoinTeam/faircoin2
Freedom Coop, a tool for the people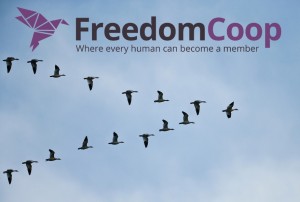 We are pleased to announce the launch of Freedom Coop's early beta. You can now register as a member and contribute inspiring projects so that we can make them all possible through open collaboration. As it is a beta version, by becoming one of the first participants, you will be able to help to improve Freedom Coop. This will make the process easier for future members.
Freedom Coop is a Faircoop project based around a European Cooperative Society(SCE) which creates toolkits for self-management, self-employment, economic autonomy and financial disobedience for all individuals and groups striving for fairer, more solidary and cooperative social and economic relationships.
As a member of Freedom Coop, you will be able to develop self-employed activities through the SCE's legal framework. You – as individuals, groups or small cooperatives – can minimize your interaction with nation states where employment and administrative issues are concerned. In this way, you can focus on the really important things – your profession and developing your projects.
Freedom Coop offers the following to its members:
The use of a shared ID number for tax purposes, so you can write invoices and make purchases. The issued invoices are subject to VAT and do not constitute personal income tax because "a legal personality" issues the invoices and not an individual.
Freedom Coop handles accounting and liasion with fiscal authorities.
An easy, fast and simple procedure for starting and then carrying out your self-employed activity.
An alternative banking services toolkit for any individual or group regardless of their legal status or financial solvency.
A broad assortment of resources and tools for Freedom Coop members (such as FairCoop, FairMarket or FairCoin) to connect those who wish to carry out their activities in Europe, regardless of their country of origin and support these activities.
Access to cheaper products through collective purchasing.
A coordination and legal support service for all participants, including legal entities. This takes place through the use of legal structures, via the strengthening of a solidary economy and with a monetary flow that does not leak out and allows it to stay within an internal ecosystem.
The first step in joining Freedom Coop is to register on the Open Collaborative Platform (OCP), and follow the instructions there for paying the fee. This membership fee can be paid in FairCoin, and is of 600 for individual projects or 1200 for groups. If you don't need a tax code for invoicing, you can still become a member, pay the fee, and simply use the OCP to manage your projects or participate in the ones that are active and open.
Freedom Coop also intends to make a step forwards in creating an economic and financial alternative, by using FairCoin for the membership fee, for the quarterly fees, and for transactions between members. In this way, we expand the use of this currency and help the entire system to grow. You will also be able to use many other tools that FairCoop puts at your disposal: With FairMarket you can make your products and services available in this alternative economy. With each of these tools, this new system becomes stronger step by step.
With the launch of this "early beta" we hope that the projects interested in joining will register and walk side by side with us, supporting the development of this tool, and of all it's potential.
Launch of the phone line of the cooperative Call Center from Refugees to Refugees (R2R)!
The phone line of the cooperative call service 'Refugees to Refugees (R2R) Solidarity Call Center' begins to operate on Thursday 8th September!
For three months now, refugees and people from the solidarity movement have been working cooperatively together, through open and democratic processes, in order to create a cooperative initiative that will provide information about transit, stay, or settlement in Greece, from refugees to refugees.
Thanks to the support of the hackborders team, the asterisk operator was recently set up and therefore the phone line for the call center is now ready!
This action will be an important milestone, because it is being developed by refugees themselves who speak the same language and have been through the same difficult experiences in transit. We hope that this can bring a level of trust and sincere collaboration among the people who contact and the people who work at Refugees 2 Refugees Solidarity Call Center.
We want to coordinate and interact with numerous individuals and collective initiatives throughout Greece and abroad, to strengthen solidarity with refugees and migrants and to be able to respond to all the common struggles together.
With the current situation that refugees are encountering where they are, both in refugee camps and outside, we as a Call Center project can help to strengthen cooperation and communication among people living in concentration and in isolation, away from the cities, the solidarity movement and each other, with limited access to vital information about the common struggles and related latest news.
This cooperative project is one of the initiatives that FairCoop Thessaloniki is supporting for building a fair economy ecosystem. Our vision and objective is the creation and networking of a truly fair and participatory economy from below, open to all the people without discrimination, building bridges between the refugees' solidarity movement and the alternative economy movement, with experiences like the Refugees 2 Refugees Solidarity Call Center.
The funds for the economic sustainability of the project, as well as for the equal distribution among the refugees working in this cooperative initiative, are coming from an international crowdfunding campaign for a collective fund that was created for the development of cooperative refugee initiatives, the Refugees Fund.
We call upon all the individuals and groups of the solidarity movement at local and global levels to contribute to the 'Coopfunding' campaign and to support the economic sustainability of the cooperative Refugees to Refugees Call Center. The expenses of the cooperative are around 1500 euros monthly and the funds received until now will be finishing this September.
More support is needed. In the following link you can see the progress of the campaign so far, contribute (in euros or faircoins) and share the coopfunding campaign with your solidarity networks!
https://coopfunding.net/en/campaigns/refugees-fund-faircoop/
Visit our website and facebook page for more information:
callcenter.coop
Fb: Refugees to Refugees R2R Solidarity Call Center (included emergencies any time)
The number of the phone line for the call center is: +302311180903
Timeline: 09.00 to 16.30 (work time) 16.30 to 21.00 (only emergency calls)
Saturday: (only emergency calls)
In solidarity, the group of the cooperative R2R Call Center Ramez, Yaya, Jalal, Aveen & comrades
Local nodes. Experiences from across the lands of FairCoop (II). Heraklion, Crete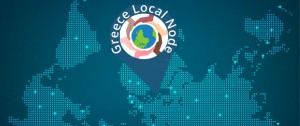 As part of our series of posts about local FairCoop experiences, here is another very interesting place: Greece. Due to recent events that have taken place in this country since the Troika blackmailed its goverment and people to get them to accept more cuts, there has been a lot of activity. This has given a boost to activity related to FairCoop, mainly in Athens and Crete, where there are many projects and experiences under development.
In this post we will focus on Heraklion where there are a lot of interesting things happening.
Recent news from Heraklion Local Node, Crete
Our experience of FairCoop's infrastructure and wider network is fairly recent. We had the chance to host the International FairCoop Summer Camp in 2015 and to get into practicing using a global alternative economy tool during the promotion period of FairCoin in our town. Since then, little by little, we keep on exploring the structure of FairCoop as a whole, as well as trying to introduce it to the local community.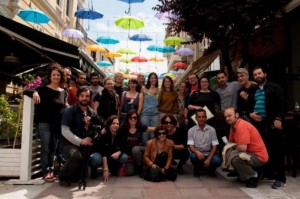 Additionally, along with the Local Node of Athens, Thessaloniki and other networks, we took part in the 1st gathering of the Solidarity Economy and Integral Cooperativism, an event that took place from the 5th to the 8th of May in Mouzaki, Karditsa. There we had the opportunity to discuss topics relating to Integral Revolution and make a first step towards cooperation and networking between us. In this way, we are able to promote our ideas and practices to more people, empower local initiatives as well as create a more complete system that can be effective at a national level.
As a result of all the above, during the last few months at the level of Heraklion, local political groups, initiatives and collectives have been forming a common assembly, to create a practical plan towards Integral Cooperativism that would put together common needs into the context of a political framework. It has been until now a process of refining our texts and public profile, which were eventually presented in an open event in the center of the town. In this event we practised in an autonomous open-space exchange market and a collective kitchen, as well as introducing people into our new integral economy model, through the use of FairCoin and mutual currency implemented with the integralCES platform.
The two fields we are focusing on during this period are, firstly, the agricultural matter: working to get people to trust each other, promoting our preference towards respectful and natural ways of farming, but also using collective decision making in designing a fair production-to-consumer network. The second is to access and make use of disobedient economy tools, which are very much needed in Greece, in order to support peoples' needs. Apart from the alternative currencies mentioned before, we also started testing a local legal form as a practical disobedient tool to help local collectives extend their operation. Complementary, in a wider level throughout the country, we are highly motivated towards the integration of immigrants and refugees, and towards implementing alternative education projects in the territory.
Furthermore, as a FairCoop Local Node, we visited two other main towns on the island to share our interest in FairCoops' tools and spread the idea of Integral Cooperativism in a more close and personal way. There was an initial interest from their side and our plan in the near future is, as the Heraklion initiative evolves, to develop a more close relationship and cooperation with them.
Lastly, apart from the local actions, we are trying to keep up and follow FairCoop's development at the global scale as well. We strongly believe in local-to-global bidirectional connection, thus participating actively in the Open Global Assemblies and trying to co-shape our common strategic path. Also, from a practical point of view, this means that we are collaborating in different working groups, while translating all new information and tools into Greek so that they are easily available publicly to a wider audience. We are looking forward to participating in all the new tools designed by FairCoop community and its committed members, like FairMarket and FreedomCoop, strengthening and broadening our commonly shared vision for a decentralised and truly fair economy of the people.
To know more about the Greece local node you can find them in the Fairnetwork.
If you want to get involved in the activities going on in your local area, just register on the Faircoop website and join the Fairnetwork, search in the groups area for your nearest local node and join. If there is no local node near you, you can start one!
From the institutional way to the integral revolution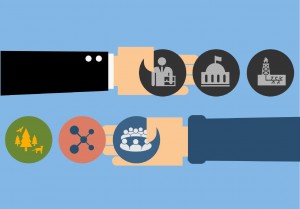 (Article from Enric Duran)
the power