FairCoop will donate 1000 Faircoins to the first 100 collectives that accept donations in Faircoin, and which are in tune with FairCoop's principles and values.
With the goal of publicizing Faircoin as a tool for making and receiving donations, FairCoop launches its first donations campaign. The first 100 nonprofit groups that include Faircoin as a means of receiving donations and make the facility known through their blogs, websites and social networks, will receive 1000 Faircoins.
Through our operating platforms – GetFaircoin.net that operates worldwide and Fairtoearth.com available in several countries, Faircoin is becoming a simple fully functional tool for donations. There are multiple benefits of using a cryptocurrency like Faircoin, including the absence of taxes, and the rapidity and ease of sending money. In a growing number of countries it is also easy to convert Faircoin to cash without the need for a bank account, and price stability of the currency is achieved through GetFaircoin.net, minimizing speculation. Also, using Faircoin over other cryptocurrencies is much more advantageous as the social and ethical values – promoted by FairCoop – are shared by many nonprofit groups.
Those nonprofit groups that are aligned with FairCoop principles and are interested in this donation of 1000 Faircoins should follow a simple registration process to receive the grant:
1. Download and install the Faircoin wallet, following the instructions at https://getfaircoin.net/tutorial/ or, download the Android wallet from https://fair.to/androidwallet.
2. After installation, they will have an address through which donations may be accepted. This address can be published in any suitable place in the web or blog site for donations (such as a tab that reads 'donations').
[Those groups who can not for whatever reason make use of the Faircoin wallet, but want to have an address where they can receive donations – can write to
fairsaving@getfaircoin.net
requesting to open a fairsaving address (
/es/fairsaving-2
) where Faircoins can be received.]
3. Download donation buttons for use on your website in different languages from:
We provide this widget that will facilitate the donation process that you can embed on your website by copying and pasting a simple code.
4. Publicise the fact that you accept donations in Faircoin through the hashtag #Faircoin on Twitter, and/or on Facebook, and/or on your organisation's website/blog. In the latter case, you must send FairCoop (coop@fair.coop) a link to the page where you state that your organisation accepts donations in Faircoin.
5. Within a week, through an open and participatory process, it will be evaluated whether your organization is aligned to the principles of FairCoop; if so, and assuming you are one of the first 100 organisations to take up the opportunity, the donation of 1000 Faircoin be made directly to your Faircoin wallet address..
 
NTROPY FACTORY, the rural incubator of projects behind Fairtoearth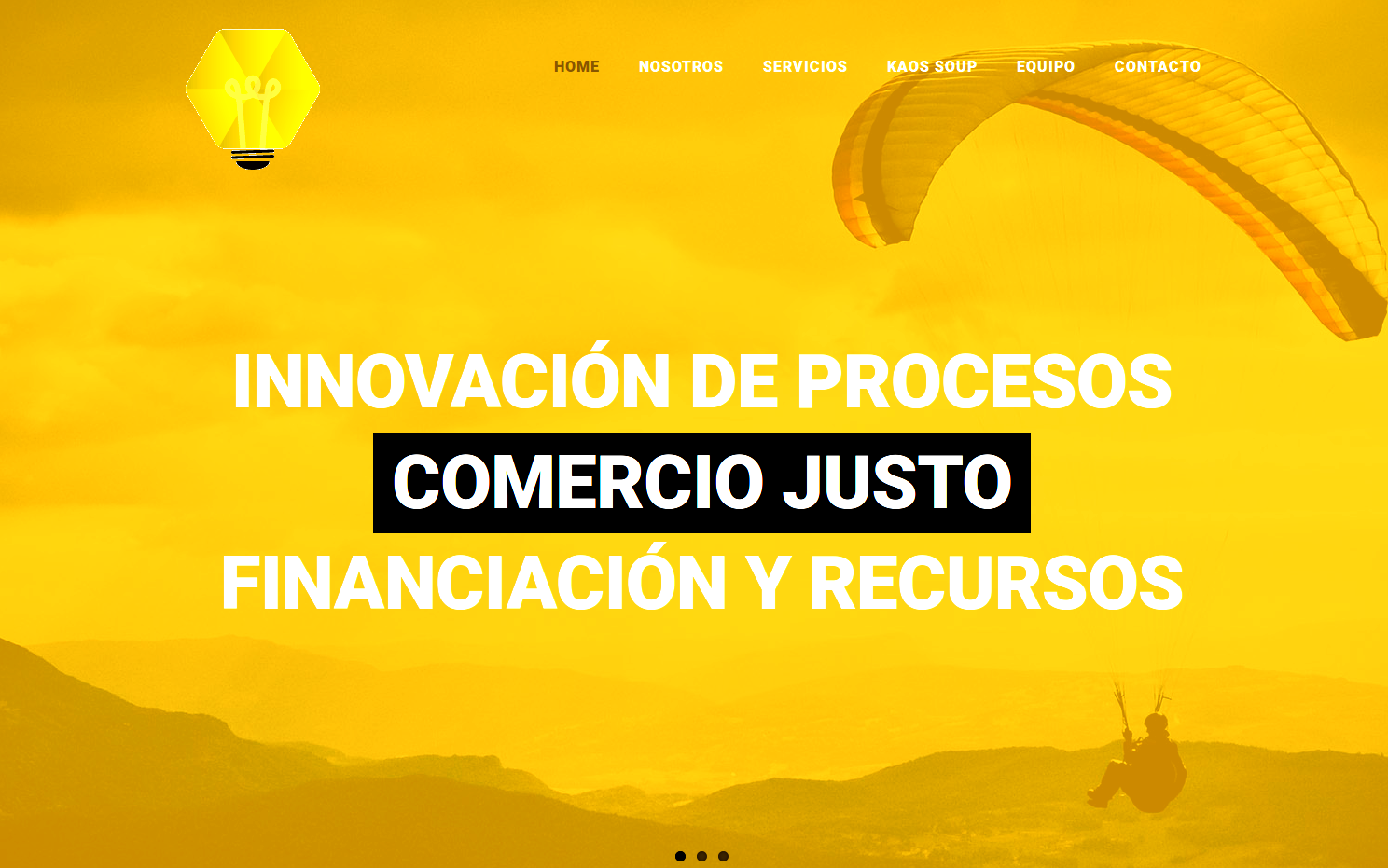 On March 11, a kit for Android, iOS and other web applications was released, enabling Faircoin to become the  cryptocurrency with the second-most ATMs available to transform your Faircoins into cash.
The development of this toolkit, which is an essential step in the evolution of FairCoop, has been made possible by Entropy Factory. This article will talk about this factory of projects that is also poised to become one of the key nodes of the network of incubators that FairStarts intends to build.
Entropy Factory, an emerging technology laboratory located in a rural village in Castellón called "Les Coves de Vinromá" is presented as a "socio-economic system based on revolutionizing the traditional social and economic models through fair trade, access to a life of quality at a low cost and the decentralization of the population."
And it's not the first business venture of its founders Vicent us and Lluis Santos, but has been launched after their accumulated experience and success in software development for digital payment systems, skills that now can be applied in an independent way to initiatives such as ChipChap and FairToEarth.
The collaboration with FairCoop is one of the areas of work that Entropy Factory has chosen. They are planning to offer a range of services for those start-ups that share a similar socio-economic vision and want to develop a project. Among these services, they can develop a survival plan to cover the financing of the project, accommodation and food, all in return for cooperation in other projects: a form of barter and collaboration that could help new projects overcome the barriers that often exist between planning and execution.
New projects with advisory services of different kinds are also available: financial, labor, IT and marketing. In particular, their awareness of the rural environment and desire to support the self-management of the population gives them a particular focus on agricultural projects, with the intention of creating a platform for development and negotiating a barter or economic agreement with the owner.
On the other hand, services will also be offered to projects that are already in operation, for example, helping to create a low-cost R & D system in a natural environment that could help offer an original vision to the creative professionals involved; or to take over the publicity campaign for the project, and/or offer a workplace/home.
There is no need to belong to a start-up to approach Entropy Factory.
If you are looking for a plan to reduce your day-to-day expenses, they offer another way to organize your project economically through the use of technological tools that can diminish your overall financial needs.
+ info: https://entropy-factory.com
New Android wallet for your Faircoins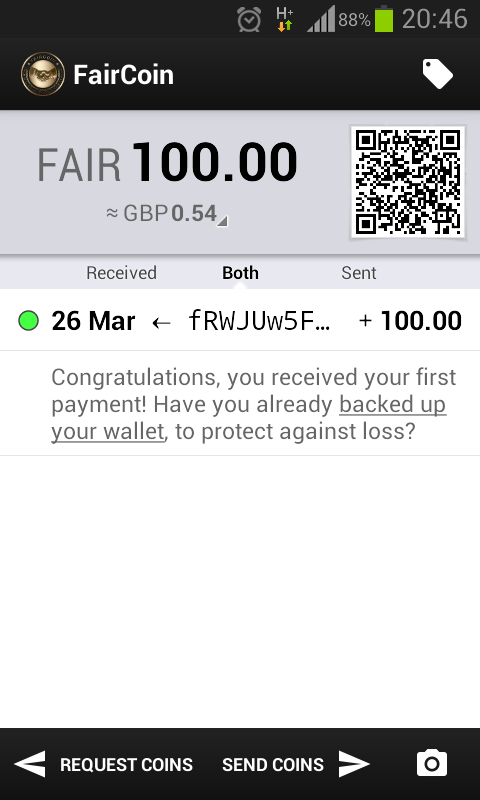 Now you can leave your wallet at home. You just need a smartphone and download the new Android wallet for your Faircoins. This simple and lightweight app lets you make purchases and sales in your store, through your mobile phone at any time. Also you can check the status of your account on your phone whenever you want. This is another step towards the implementation of Faircoin.
An Android Wallet based on the great work of Andreas Schildbach the creator of the Bitcoin wallet for Android. Although there are currently no known issues we still want to call it a beta version. To install the wallet just open the google play store on your device, enter FairCoin in the search box and install it the usual way. We'd love to get many (hopefully positive) reviews and ratings in the play store.
The Pc wallets, unless you bring it with you, for obvious reasons are not useful when you leave home. With this Android wallet, you can send Faircoins between phones and other devices, simply showing the QR code, integrated in the Android wallet, that contains your wallet address with wich you are going to make the transaction. Thus, with rapid scanning, the transaction is completed.
As with your normal wallet it's not recommended, for security reasons, leaving home with a huge amount of money in your pocket. In addition, in the case you need more cash, you can use the app for Android Fairtoearth, to convert Faircoin into fiat throught thousand of ATMs, so you can cover all your needs with just your phone.
However, the utilities of the wallet don't stop here, soon it will allow you shopping at Fairmarket, our on line market, and other online stores.
The future has begun and soon you will be able to go without cash on your pocket, when you leave home, because it will be enough to take with you your ethic cryptocurrency.
You can download your wallet here
Networking in London
In the same week that FairCoop celebrated its first six months, Luis Tiago (@sede) arrived in London to introduce the concept of the Earth Cooperative for a Fair Economy and Faircoin for the first time to the United Kingdom.
Despite the last minute notice, the first presentation on the evening of Friday March 14th at a radical social centre and bookshop 56ª Infoshop attracted about 10 people. The second event – right at the financial heart of London – was a presentation at the FLOSS4P2P Workshop on Monday 16, attended by around hundred people among hackers, academics, activists.
The 2-day event had as focus the emergence of Internet-enabled collaborative communities building shared libre/open resources and commons-based Peer to Peer Production (CBPP) for information (OpenStreetMap, Wikihow), hardware (FabLabs, Open Source Ecology), accommodation (Couchsurfing) and currency (Bitcoin, Altcoins, Faircoins).
In the short time that @sede, @paulissima, @ferdinand were together in London, there were lots of opportunity for networking and ideas exchange, and we hope to have a local node in London soon!
: A Network of Incubators for a Collaborative Economy and P2P Production.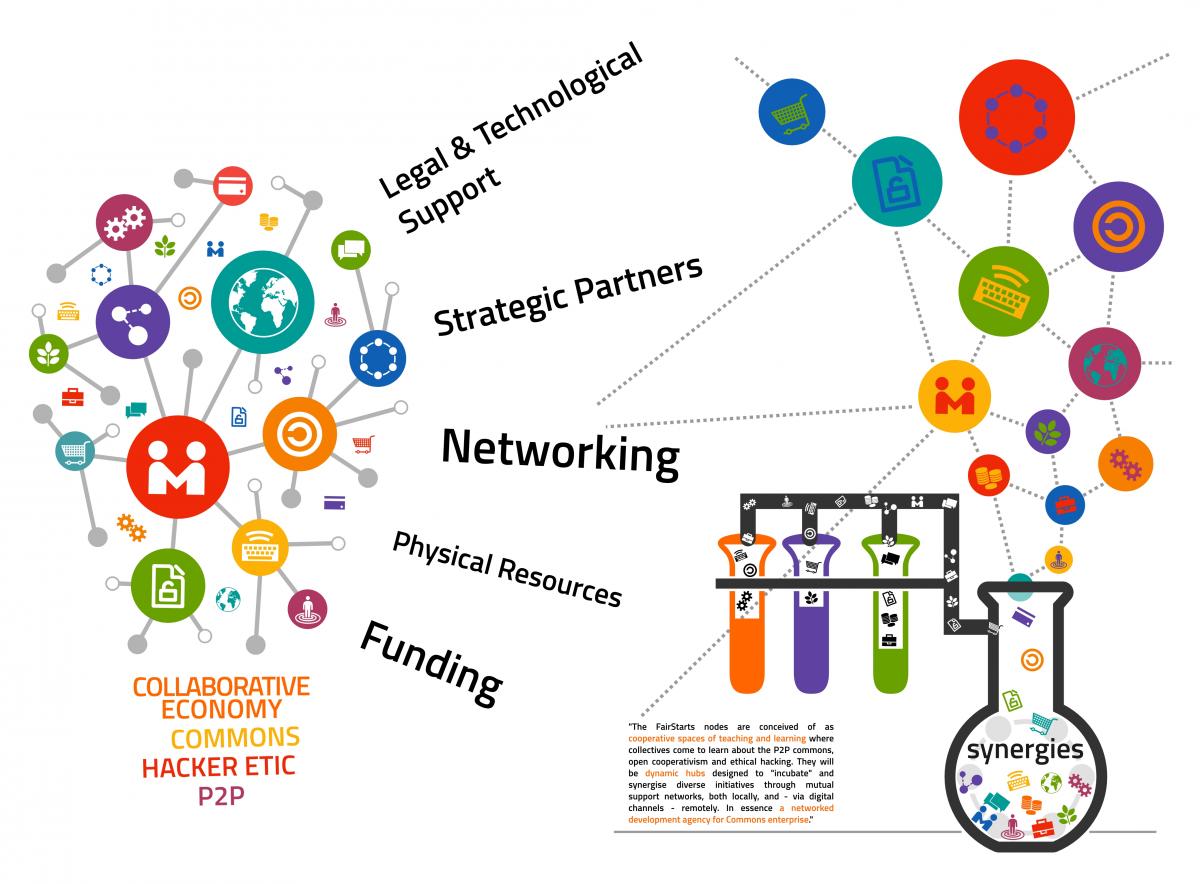 Start FairStarts! A project that aims to create a network of incubators to help develop transnational, open and cooperative projects in the collaborative P2P economy.
This strategic initiative will benefit both new and existing FairCoop projects, enabling locally-based self-governing projects to link in to mutual aid and solidarity support from a global network.
We are focusing on those social enterprises which are geared towards producing open commons. FairStarts will help them by providing resources such as technological and legal advice, funding, contacts and strategic partners, networking, and physical resources.
The FairStarts nodes are conceived of as cooperative spaces of teaching and learning where collectives come to learn about the P2P commons, open cooperativism and ethical hacking. They will be dynamic hubs designed to "incubate" and synergise diverse initiatives through mutual support networks, both locally, and – via digital channels – remotely. In essence a networked development agency for Commons enterprise.
If FairCoop aims to build "a new world economic system based on cooperation, ethics, solidarity and justice in our economic relations," FairStarts will be one of the main tools for an integral and democratic development, directly linked to the first expected initiatives of the monetary system (Faircoin and FairCredit) and the FairMarket exchange.
+++ To follow the latest news and developments, we recommend visiting this thread in the forum of our Network
meets Raspberry Pi thanks to the new Faircoin wallet v1.5.0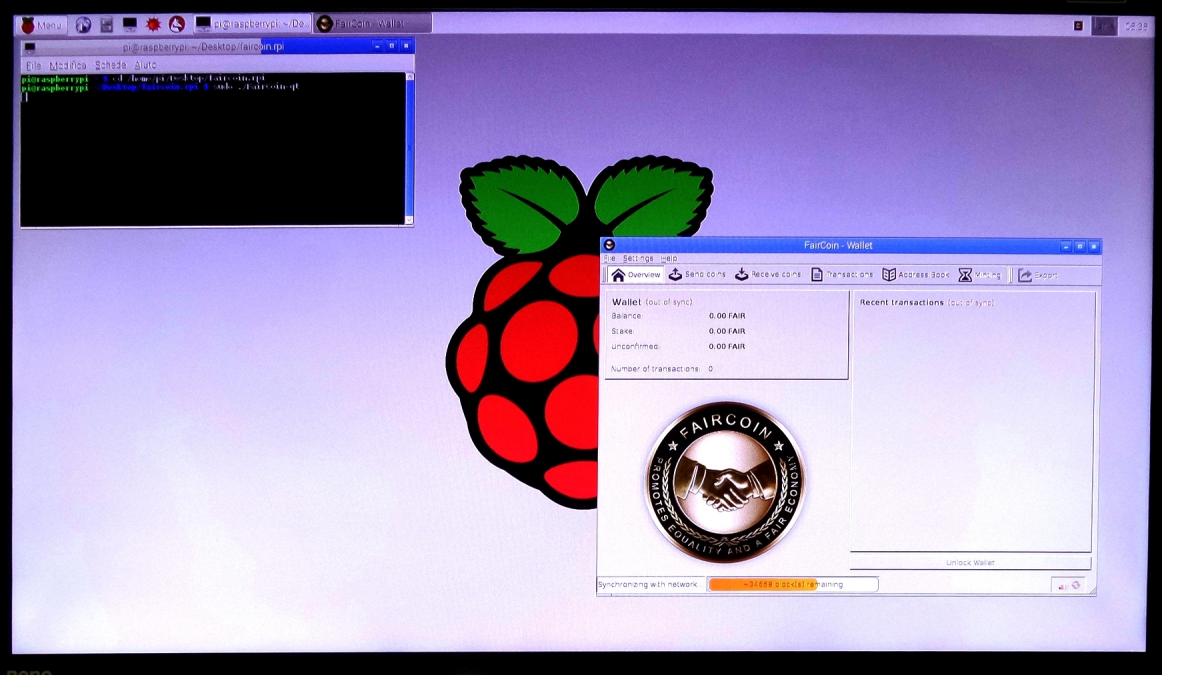 The Raspberry Pi is a low cost mini computer which was developed in the UK by the Raspberry Pi Foundation in order to reach as many users as possible and encourage the teaching of science computing in schools. It was launched in February 2012 and, in a few time, drew the attention of tens of thousands of enthusiastic becoming very popular because of its affordable price (below 40 euros) and the many options it has, easily to implement with little knowledge.
Raspberry Pi are manufactured in a tiny mother board of 85x54mm (a bit bigger than a credit card) based on a Broadcom chip BCM2835 ARM processor with up to 1 GHz speed, GPU VideoCore IV and up to 512 Mbytes of RAM. It has several ports and inputs, two USB, one Ethernet and HDMI output for connecting the minicomputer to other devices, keyboards, mouse and screens. It can be used for many things that a desktop PC does, such as spreadsheets, word processors and games; also plays HD video. Its power consumption is 10 times lower than the a laptop.
Since few days ago, the new #Faircoin wallet is available for Raspberry Pi, a good way to link new systems technology that sharing, firstly, the philosophy of free software – Open hardware whose specifications, designs and patterns are public access to the common good – and secondly, more efficient consumption and respectful with the environment.
To download the new #Faircoin v1.5.0. wallet: https://fair-coin.org/#wallet
This post is also available in: Spanish French German Portuguese